---
MESO RETINOL DREAM
---
Overnight treatment restoring density and texture to the skin and reshaping the face
---
This cream benefits
Anti-ageing, reduces the appearance of wrinkles

Improves the skin's texture and connective tissue

Powerful anti-radical activity

Improves skin tone and firmness

Makes the skin smoother with a younger appearance

Reduces skin blemishes and gives a more even complexion
Main ingredients
Retinol

Lipoic Acid

Acmella Oleracea extract

Vitamin E
---
Overnight treatment restoring density and texture to the skin and reshaping the face
Meso Retinol Dream is a cream formulated with a complexity of high-performance ingredients that help rectify and prevent the main signs of ageing.
It has a synergistic action on the skin's surface and at depth thanks to the combined effect of active ingredients such as retinol, alpha lipoic acid and a highly effective antioxidant vitamin complex that acts against wrinkles and skin relaxation.
It helps to reduce the appearance of fine and marked wrinkles.
It also helps to minimize the visibility of spots and pores, giving a brighter complexion.
---
MAIN INGREDIENTS
Retinol:
One of the forms of Vitamin A, is a highly effective and multifunctional anti-ageing product: it stimulates the elasticity and tone of the skin, reduces wrinkles, and promotes cell turnover, the natural renewal cycle of the skin.
It stimulates the production of collagen and elastin, restoring density and texture to the skin and reshaping the face, which acquires a rejuvenated appearance.
Lipoic Acid:
An active antioxidant, adjuvant in the treatment of skin ageing, Lipoic acid has a scavenger activity and takes part in various antioxidant mechanisms of the body, such as the regeneration of Vitamins C and E, and CoQ10.
Acmella Oleracea extract:
The product is known for its natural botulinum-like abilities, and for this reason it is considered highly effective in anti-ageing treatments and for the reduction of wrinkles. It is used specifically for expression lines. Its action is preventative and soothing.
Vitamin E:
Thanks to its free-radical scavenging activity, it protects the skin from external factors (pollution, UV-A UV-B) that can be dangerous for the skin and cause premature ageing.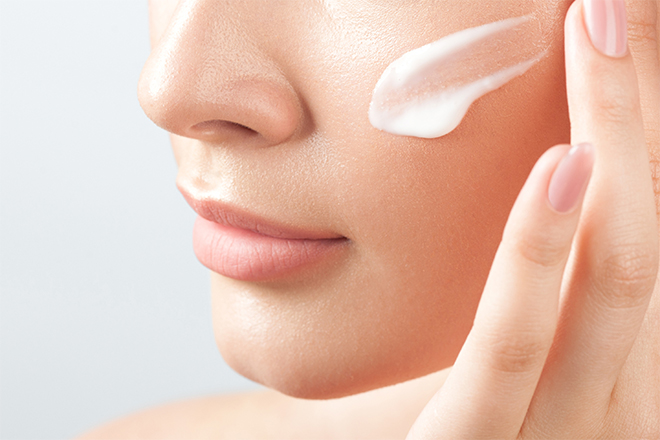 INGREDIENTS (INCI)
Aqua, Cetearyl Alcohol, Caprylic / Capric Triglyceride, Glycerin, Butyrospermum Parkii Butter, Aloe Barbadensis Leaf Juice, Propylene Glycol, Dicaprylyl Ether, Dimethicone, Glyceryl Stearate, Phenoxyethanol, Olea Europea (Olive) Fruit Oil, Prunus Amygdalus Dulcis (Sweet Almond) Oil, Linum Usitatissimum (Linseed) Seed Oil, Potassium Palmitoyl Hydrolyzed Wheat Protein, Acmella Oleracea Extract, Thioctic Acid, Tocopheryl Acetate, Diglycerin, Borago Officinalis Seed Oil, Retinyl Palmitate, Ethylhexylglycerin, Disodium EDTA, Parfum, Pinus Pinaster Extract, Tocopherol, Triethanolamine, Potassium Sorbate, Sodium Benzoate, BHA, BHT
Customers who bought this product also bought