---
Global Peel Salicylic
Sebum-regulator indicate - For oily skin with acne tendency
---
Salicylic acid
Salicylic acid is a low hydrophilic beta-hydroxyacid, acting as a selective keratolytic in corneocytes resulting in a rapid thinning of the stratum corneum.
Its exfoliating action is concentrated at the level of stratum corneum and in the first layers of the epidermis. Moreover, because of its lipophilicity, it easily penetrates the pilosebaceous ducts, controlling sebaceous secretion. It is very useful in eliminating keratin and follicle sebum.

It penetrates very effectively in the inflamed lesions of the same, where it acts as bacteriostatic and disinfectant without causing irritation.

It is suitable for all skin types, especially those that are dry or tend to hyperkeratinization, impure, acneic, comedogenic and seborrheic. It is also recommended for some areas of the body such as back, knees and elbows.
It is indicated from photo-aging, papulopustular acne (mild to medium-sized acne), epidermal hypermelanosis, rosacea. It also has antibacterial and anti-inflammatory action.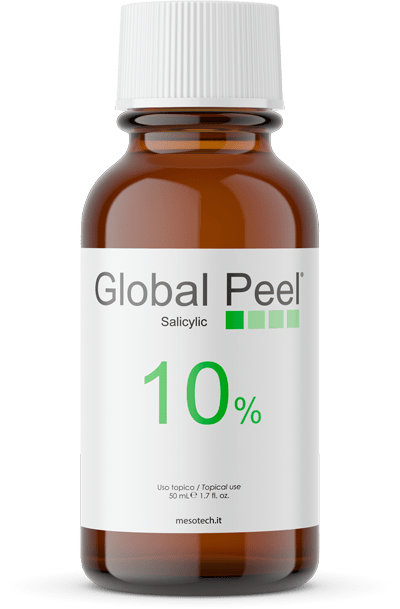 Global Peel Salicylic 10%
Indications
preparatory peel

dull skin

expression lines and very superficial wrinkles

improves the appearance of stretch marks
Best before
cleanses the skin to prepare it for subsequent medical procedures

deal before mesotherapy treatments with mesococktails and masks
Global Peel Salicylic 20%
Indications
dilated pores

superficial acne scars

moderate actinic keratosis

seborrheic dermatitis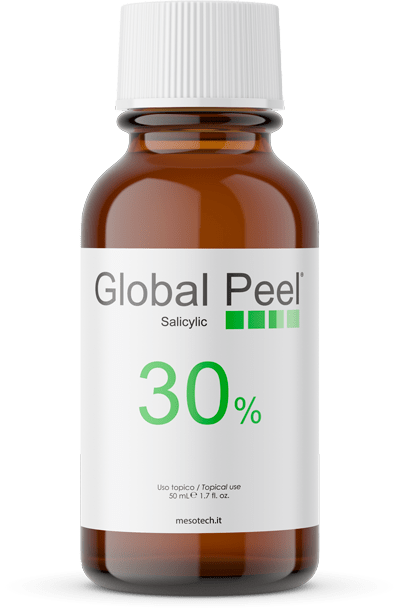 Global Peel Salicylic 30%
Indications
dilated pores

medium acne scars

actinic keratosis

seborrheic dermatitis

comedogenic or moderate inflammatory acne
Customers who bought this product also bought