---
Jess Solution
Anti-photoaging and hyperpigmentation properties
---
Salicylic acid 14% + Lactic acid 14% + Resorcinol 14%
Jessner's Solution is a preparation based on a mixture of substances (salicylic acid, lactic acid, resorcinol and denatured alcohol) which is used for superficial and very superficial peeling. It is a good exfoliant, endowed with a good keratolytic power, the solution is characterized by lightening power, useful in the treatment of small wrinkles.
Being made up of a predefined concentration, the depth for this peeling is determined by the layers that are applied to the area to be treated.

When Jessner's solution is used alone, it allows the execution of a superficial peeling, if instead it is used in combination with other products, its power increases up to assume the characteristics of a medium strength peeling.

Salicylic Acid is a low hydrophilic beta-hydroxyacid, acting as a keratolic and sebum regulator. It has anti-inflammatory, antimicrobial, astringent and anti-aging properties.
Lactic Acid is an alpha-hydroxyacid with moisturizing and anti-aging properties. Stimulates the production of proteoglycans and collagen in the dermis, has a moisturizing and firming effect. Resorcinol is a phenolic derivative with keratolytic and regenerating properties, it fights melanic hyperpigmentations and has a lightening effect.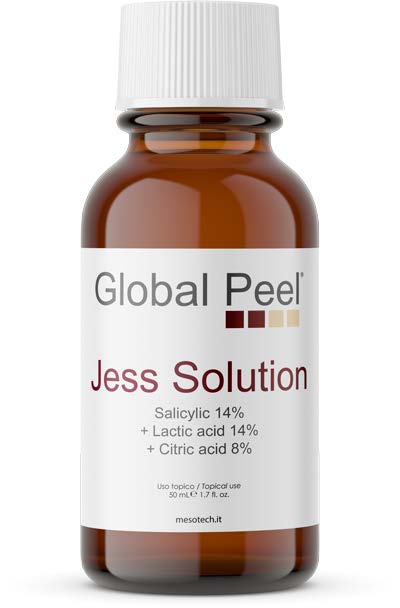 Jess Solution
Indications
stage I to II skin aging

mild to moderate photo-aging

expression lines and superficial wrinkles

loss of firmness

dilated pores

dull and opaque skin

pigmentary disorder
Customers who bought this product also bought