---
Global Peel Mandelic
Progressive action - Seborrheic and dyschromatic skin
---
Mandelic acid
Mandelic acid is an alpha-hydroxyacid (AHA) that works by breaking the protein bridges between the corneocytes, causing their detachment.

It stimulates collagen and proteoglycans synthesis and encouraging the process of cutaneous rejuvenation.
Due to its larger molecular size it penetrates at a lower rate than the other acids for gentler, more progressive chemoexfoliation.

The main indication to its use is for a superficial-medium chemical peeling that acts without causing burning or redness.
It is particularly active in the repair and reactivation of aged skin. It has antibiotic properties and is therefore effective in the treatment of non-cystic inflammatory acne. It also has high depigmenting abilities.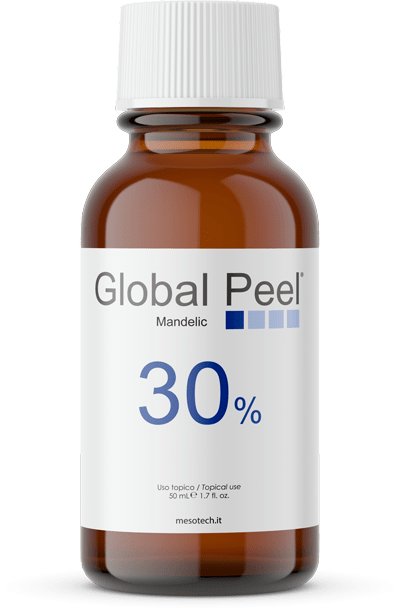 Global Peel Mandelic 30%
Indications
preparatory peel

normalizing sebum secretion

reduces pore size

unifies skin tone
Best before
mesotherapy

mask

bleaching treatments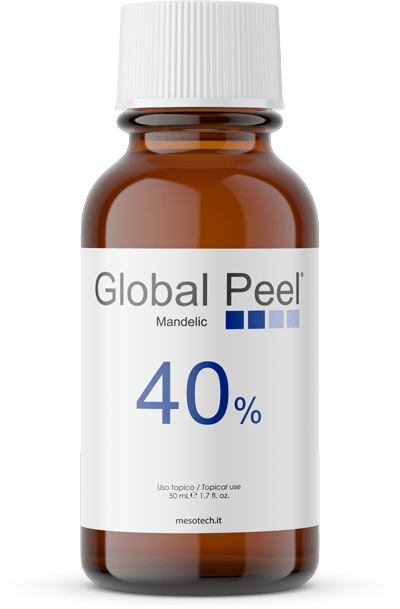 Global Peel Mandelic 40%
Indications
dilated pores

controls sebaceous secretion

unifies skin tone

reduces dyschromia
Global Peel Mandelic 50%
Indications
controls sebaceous secretion

comedogenic acne

superficial acne scars

mild actinic keratosis

pigmentary disorders

spots

ephelides

uneven pigmentation
Customers who bought this product also bought