---
Global Peel Glycolic
High penetration capacity - Suitable for all skin types
---
Glycolic acid 10% - Lactobionic acid 2% Hyaluronic acid low molecular weight (5-10 kDA) - Alpha Hydroxy Acids Extracted from fruits
Glycolic acid
Glycolic acid is an alpha-hydroxy acid and is one of the most used substances in aesthetic and aesthetic medicine (at different concentrations) to perform superficial peeling. It has a mild keratolytic action, acting by reducing the cohesion of the newly formed corneocytes at the level of the deep stratum corneum.
It encourages cellular regeneration and promotes glycosaminoglycan synthesis while increasing levels of moisture in the epidermis and reinforcing the skin's natural barrier function. Glycolic acid is able to stimulate fibroblasts and increase the production of collagen, elastin and fundamental substances.
In this way the structure of the connective tissue is greatly improved and the derma is thickened by 20% -30%. It is indicated in the treatment of skin aging, photo-aging, wrinkles, papulopustular acne scars of mild and medium, hyperpigmentation, irregularity and uniformity of skin tone.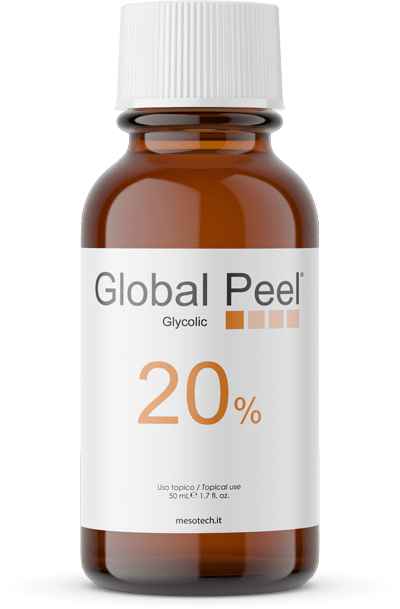 Global Peel Glycolic 20%
Indications
preparatory exfoliation

stage I skin aging

reduces expression lines and superficial wrinkles

unifies skin tone
Best before
mesotherapy

mask (Botophase, Biobalance)

reduces expression lines and superficial wrinkles

unifies skin tone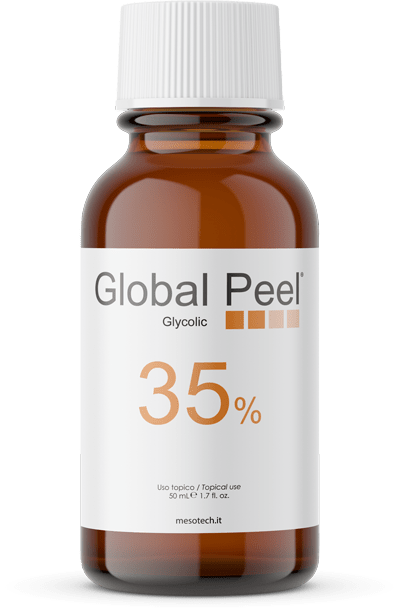 Global Peel Glycolic 35%
Indications
stage II skin aging

reduces expression lines and wrinkles

irregular tone

improves the appearance of striae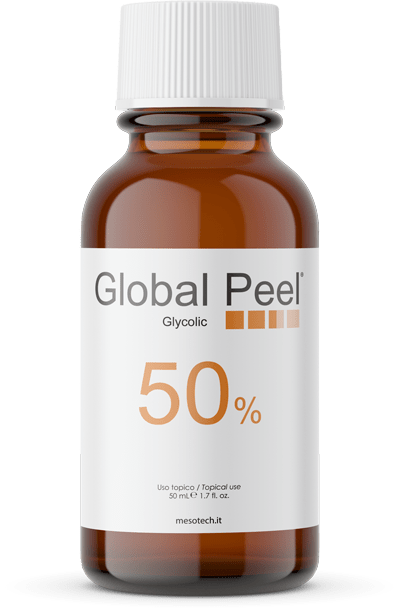 Global Peel Glycolic 50%
Indications
stage III skin aging

moderate photo-aging

medium wrinkles

dilated pores

skin flaccidity

superficial acne scars

moderate dyschromia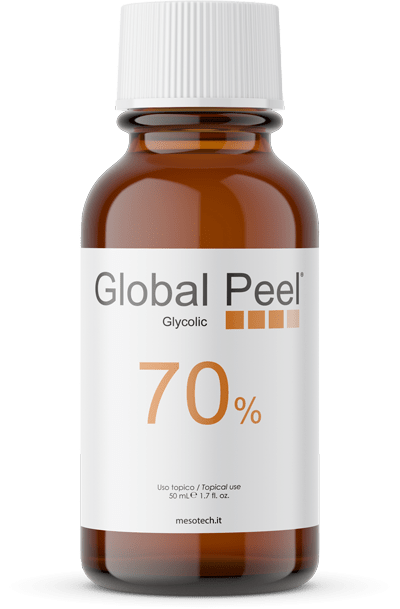 Global Peel Glycolic 70%
Indications
moderate to severe skin aging (grade III-IV)

advanced photo-aging

medium and deep wrinkles

skin flaccidity

medium acne scars

solar and senile freckles

pigment disorders
Recommendations:
Suitable for skins that have previously been prepared with superficial peels
Customers who bought this product also bought