---
MESO EYE LIFT+
---
the fast lifting effect!
---
MAIN TREATMENT AREA
Malar Zone

Periorbital Zone

Face and neck (especially for thin skin)
TREATMENT PROGRAM:
First 2 months: once a week

Next 2 months: minimum once a month

Maintenance: once every 6 months
Age 30+: 4-6 treatments

Age 40+: 6-8 treatments
RESULTS
Anti-ageing and skin tightening

Tones the muscle fibers and lifts the skin

Firms the skin especially on the cheek and eye area

Reduces the length and depth of mimic wrinkles

Increases the skin's elasticity and stimulates collagen production

Compatible with botulinum toxin and fillers.
---
MESO EYE LIFT+
the fast lifting effect!
Face and eye area lifting. Strong action against mimic lines. It is compatible with the botulinic toxin. Improves the moisturizing of the skin. Captures free radicals and protects from external abrasions.
MESO EYE LIFT+ is an effective meso-cocktail developed to prevent the skin's signs of ageing and to firm the skin.
MESO EYE LIFT+ has no side effects, and the treatment is compatible with other meso-cocktails and botulinum toxins. It is therefore both a gentle and effective agent for firmer and stronger skin. MESO EYE LIFT+ is very effective for wounded skin, mature skin and impure skin. It is a unique skin care meso-cocktail, developed in Italy, using special technology and know how.
INGREDIENTS:
Basic Solution Ampoules:
AQUA, SODIUM CHLORIDE, SODIUM DNA
Activator Vials:
AQUA, DIMETHYLAMINOETHANOL TARTRATE, SODIUM HYDROXIDE, DISODIUM EDTA, PROPYLENE GLYCOL, CENTELLA ASIATICA EXIRACT, HYDROLYZED ELASTIN, SILANETRIOL, CITRIC ACID, MIMOSA TENUIFLORA BARK EXTRACT, SODIUM BENZOATE, POTASSIUM SORBATE
ACTIVES:
DMAE, Amino, Organic Silicon
DOSE:
DILUTION:
2 ml B-Solution+1 ml Activator
mesoskinline's range of cocktails is ready to use.
EACH MESO-CCKTAIL AWAYS CONTAINS:
Impact ingredient - to obtain immediate result
(and so satisfy patient's expectation)

Anti-oxydant ingredient - to balance free radicals' level
(FRs increase after every dermathologic treatment).

Synergy - real and focused to prevent and cure the beauty flaw.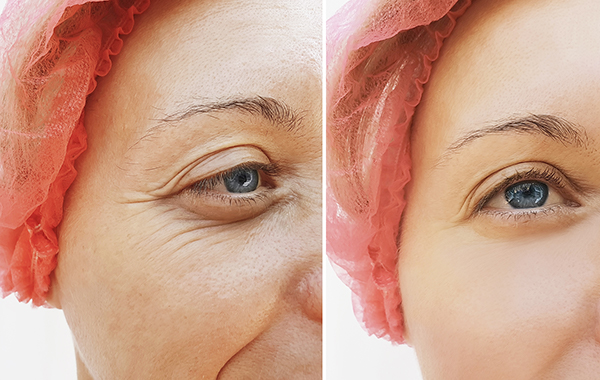 APPLICATION PROTOCOL
Apply Meso Pain Reduce on the area for 2-4 min. (topical plant-based anesthetic).

Prepare the MESO EYE LIFT+-cocktail.

Wipe the Meso Pain Reduce off the skin with Meso Pure Peel.

Perform the treatment with MESO EYE LIFT+.

Apply Meso Anti-age Mask (calming, relieving, disinfecting, anti-aging and hydrating action)

Finish the treatment with Meso Lift and Protect Cream (anti-age and healing, anti-inflammatory, UV50).
Customers who bought this product also bought