---
mesoskinline Clinical Peel course (pH 3.5)
Learn all the techniques and become globally certified in Clinical Peeling
(The only certified course in Scandinavia)
Do you want to offer more than just a classic facial treatment, where you bring clear and long-lasting anti-ageing results without surgical intervention or use of lasers?
Are you already working with skin and would like to take a special upgrade course? This course will be the perfect supplement to your skills.
Med mesoskinlines Meso Peel Acne and Meso Peel Melanin effectively reduce both acne breakouts and hyperpigmentation in just 3-4 treatments without redness, discomfort or irritation.


This is not a medical treatment as the acidity levels meet statutory requirements and are pH 3.5
---
What is clinical peel treatment?
It is a modern and gentle fruit acid treatment (pH 3.5) that can actively reduce acne breakouts and pigment spots after only 3-4 treatments and has a strong anti-aging effect.
Meso Peel Acne treatment:
You learn to treat clients who have actinic keratosis (sun damage), comedone and inflammatory acne, medium-deep acne, hypopigmentation or rosacea.
Meso Peel Melanin Treatment:
You learn to treat clients who have light and dark pigment spots (solar lentigo or melasma), unwanted freckles, grey/dull skin, or skin with uneven skin tone on the face or body.
---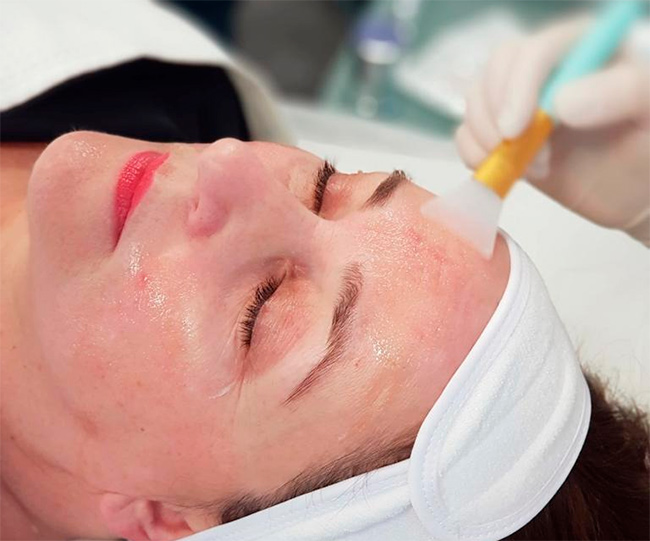 The difference between medical and clinical peeling
Peeling with products with a pH value of less than 3.5 can only be performed by medical professionals.
mesoskinline and Mesotech has therefore developed a peeling product with a pH value of 3.5 with the same properties as medical peeling products, butwithout the risk of burns or an uncomfortable healing process.
We use mesoskinline's equipment and products
For all treatments and for all courses in non-invasive mesotherapy, we use products from mesoskinline.
mesoskinline:
is a Danish-German-Italian specially designed concept within non-invasive mesotherapy, where consistency and dosage are perfectly suited to the individual type of treatment

equipment and products are produced in the EU according to ISO9001 and ISO13485 - and then they are EU certified

offers dermatologically tested mesococktails for non-invasive treatments
mesoskinline's products consist of targeted products for the treatment of a number of skin problems, for example:
fine and deep lines in the skin

scars

pigmentation

stretch marks

hair loss

Loose skin

dehydrated skin
---
Products you learn to work with
Meso Peel Acne
Fungicidal and anti-acne properties.
Pyruvic acid effectively reduces melasma, post-inflammatory hyperpigmentation, and plays an important role in depigmentation and the inhibition of keratinocytes.

It has antibacterial, anti-inflammatory and seboregulatory properties. Salicylic acid is a low-hydrophilic beta-oxyacid that acts as a deep cleanser and regulates sebum production.
It has anti-inflammatory, antimicrobial, astringent and anti-aging properties.
Meso Peel Melanin
Properties that counteract age-related skin changes and hyperpigmentation.

Pyruvic acid effectively reduces melasma, post-inflammatory hyperpigmentation, and plays an important role in depigmentation and the inhibition of keratinocytes. It has antibacterial, anti-inflammatory and seboregulatory properties.

Resorcinol is a phenol derivative with deep-cleansing and regenerating properties, which fights melanin hyperpigmentation and has a bleaching effect.

Phytic acid is a powerful copper-forming substance that promotes the inhibition of the tyrosinase enzyme and has a depigmenting effect.


---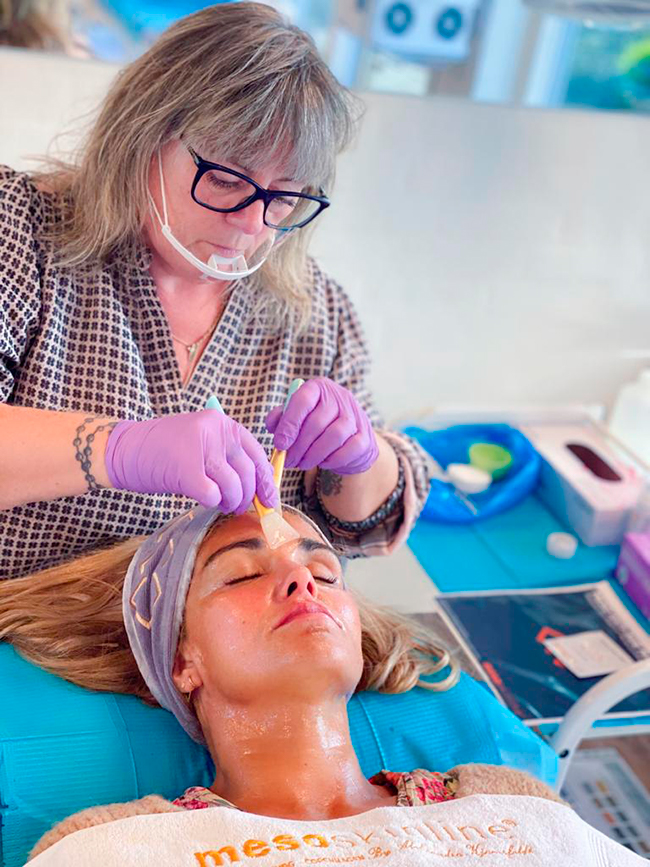 The structure of the course
Part 1: Theory online
The first part of the course takes place exclusively online and can be started and completed at your own pace

After registration, you will receive a unique login to your online study: extended theory material with video course in treatment techniques step-by-step

Clinical peel as an independent treatment and implementation in your other services

At the end of Part 1, you must pass an online theoretical exam (it requires 75% correct answers to pass)

Statkit
​Part 2: Practical teaching day with exercise

If you are staying outside Denmark, you must ONLY choose Part 1
Passing the online exam gives access to the 2nd part of the course, which is a practical teaching day at our course center in Vejle, or at one of our partners in Copenhagen or Ølstykke.
You will witness and practice the clinical peeling treatment yourself

Sparring about your treatment (which is included in your final exam)
---
Examination on the course in clinical peeling
Theoretical exam - online
The theoretical exam takes place online at the end of part 1 and gives access to part 2.
Practical exam - at home

At the course center (Or at home for course participants residing outside Denmark)
Practical exam takes place as a combination of treatment on a model at the course center (or at one of our partners) (or at home for course participants residing outside Denmark) in connection with the practical day, as well as subsequent 10 treatments on your own.
Already after the theoretical exam has been passed online, you are qualified to carry out model treatments on your own. Therefore, you can already start practicing the techniques before the practical day - if you have the courage, of course.
In total, you must have completed at least 10 model treatments on your own (before and/or after the practical day), during which you must send before and after photos to your instructor, who will evaluate them with you and give you professional advice.
Once you have completed 10 model treatments on your own, you are eligible to receive the final course certificate and internationally accredited certificate of course completion. If you manage to carry out 10 treatments before the practical day, you will receive a certificate on the day.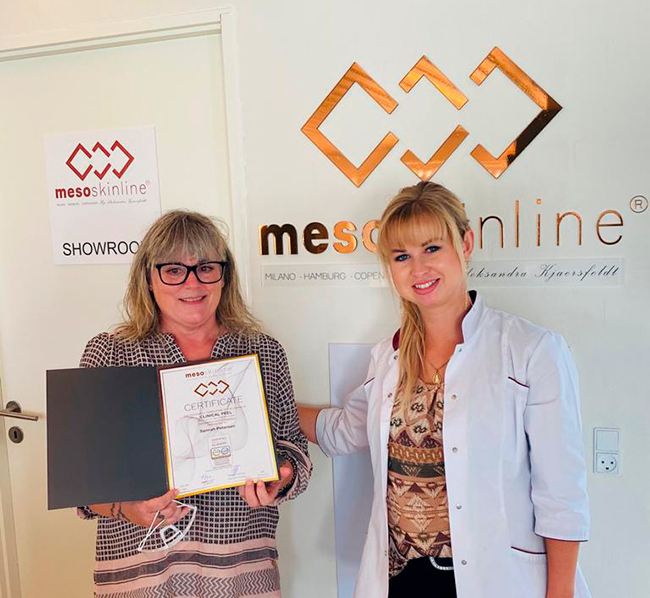 ---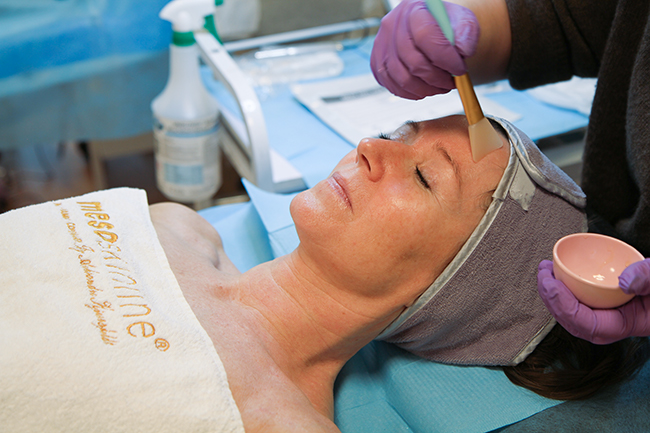 What you get that on the course in clinical peeling
Certificate with global CPD certification when you have completed 10 treatments on your own

Starter kit

All necessary support, correspondence and guidance during and after the course

Free support is subsequently provided if you have questions about the treatments or mesoskinline's equipment and products

We provide materials and products for the model treatments for the practical day

Right to purchase mesoskinline products

Access to the mesoskinline webshop, as well as images and logos for marketing material

An exclusive mesoskinline window logo
---
Price for Certified Clinical Peel course (pH 3.5)
Euro 6,000.00 including books, starter kit and exam fee.
Starter kit included in the price
the Start kit has a total value of EURO 496,50
---
Your teacher on the BB Glow course
Most of mesoskinline's and PMU-line's courses and educations are taught by Aleksandra Kjaersfeldt. A highly trained master trainer in permanent makeup with his own clinic, and many years of experience in the industry.
Aleksandra Kjaersfeldt is:
trained micropigmentist specializing in advanced permanent makeup and laser therapy
certified master trainer in cosmetic and medical micropigmentation
certified master trainer in Lash and Brow Keratin Lamination
certified master trainer in Eyelash Extensions
master trainer in dermatherapy/clinical wrinkle reduction
mesotherapist
antiaging therapist
There is no area of mesotherapy or permanent makeup that Aleksandra Kjaersfeldt has not worked with.
Despite that, Aleksandra is a humble person who always meets her students with great enthusiasm and openness. On the permanent makeup course, you will therefore have the opportunity to get answers to virtually all questions within permanent makeup and medical pigmentation.​​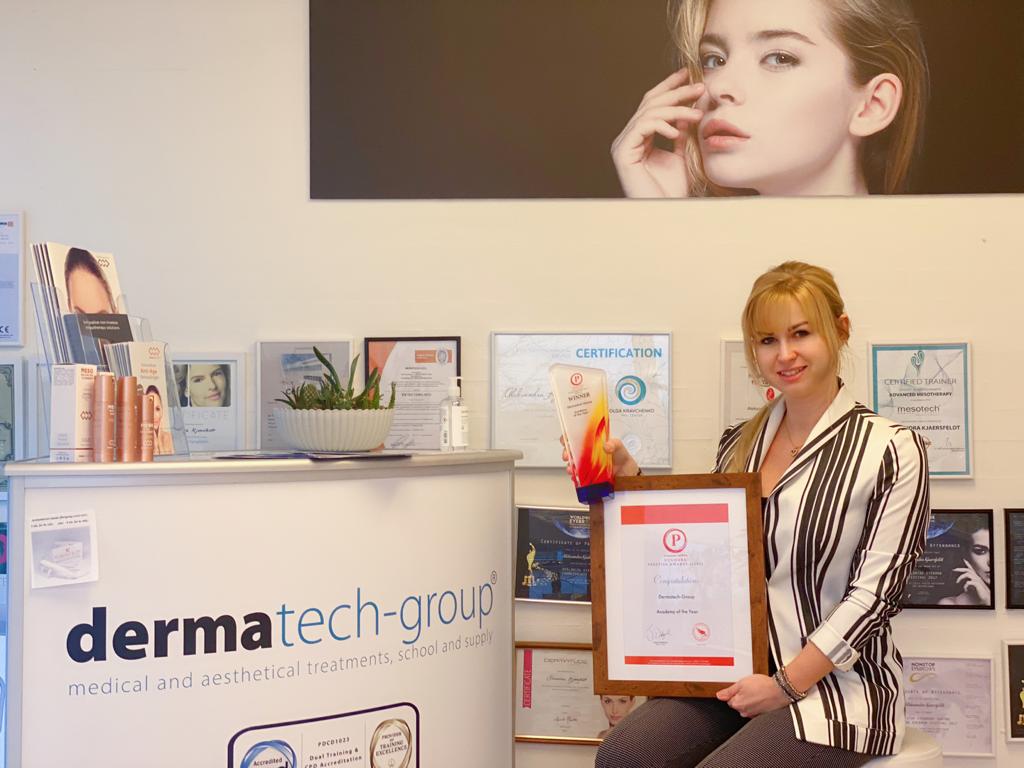 Read more about Aleksandra here
---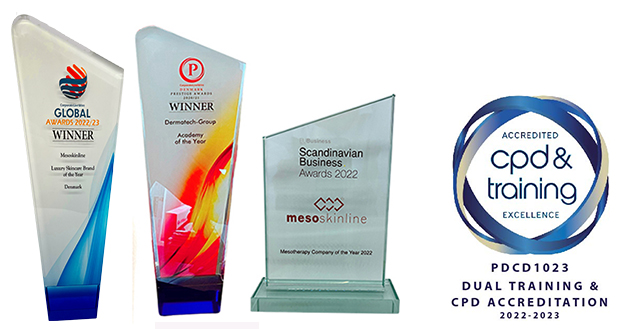 Voted the Best academy 2020, 2021 and 2022
We are proud that our entire Dermatech-group training academy has won the Prestige Awards and the Scandinavia Business Award as the best in mesotherapy and permanent makeup 2020, 2021 and 2022. The award is given on the basis of the quality of the training, treatments and products, our ethical working methods and consistency in performance.
We are all colleagues
For Aleksandra, it is important to see other micropigmentists as colleagues rather than competitors – because, after all, it should always be the client's specific needs that are central.
Therefore, if you are dealing with a customer who has a special need, it is better to send the customer on to the right micropigmentist, than to end up with a final result that neither you nor the customer is satisfied with. Together we achieve the best results, so let's collaborate and help each other - and the customers.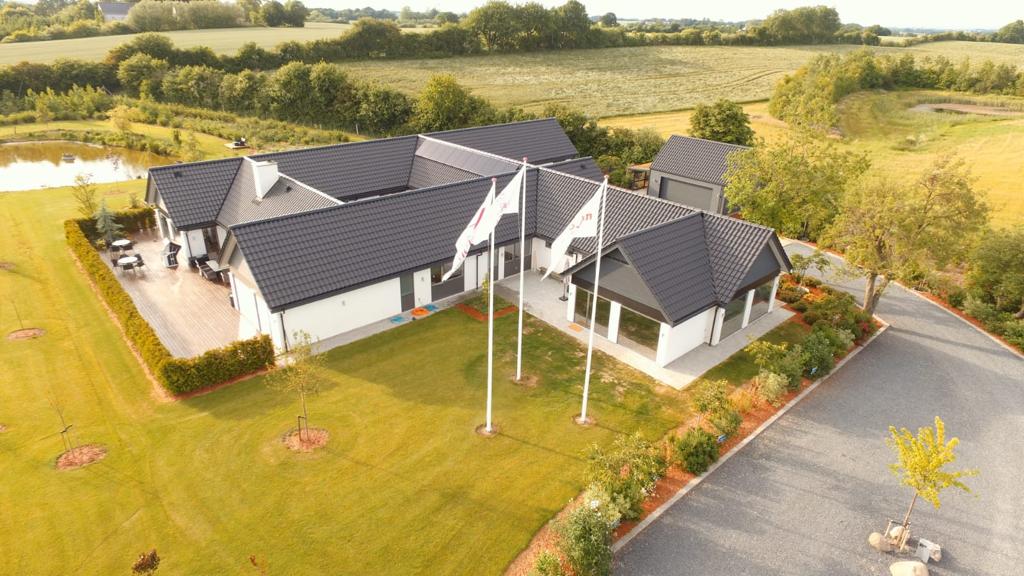 Customers who bought this product also bought