---
Become a certified BB Glow therapist with our globally certified course.

Learn all the techniques and get certified in BB Glow Skin Treatment.
Do you want to offer more than a classic facial treatment? A treatment where you can create clear and lasting anti-aging results without surgical interventions or the use of lasers?
This non-invasive mesotherapy treatment with meso skin perfector is one of the most requested treatments worldwide in beauty treatments.
---
What is BB Glow treatment?
A BB Glow treatment is a "skin glow treatment" that improves the skin by clearing and removing pores. It also accelerates the growth of new skin cells, making the skin healthier and brighter, as well as reducing aging skin cells.
In the treatment, mesoskinline's MESO SKIN PERFECTOR® is used, which is a revolutionary and ultra-moisturizing skin care cocktail that has a quick and visibly brightening effect - and which also leaves the skin with lots of glow and gives an even complexion.
The treatment is safe and non-invasive, but it is still an intensive treatment that provides an even skin tone, camouflages skin irregularities, freckles, small wrinkles and in some cases evens out pigment spots (melasma) while having a strong anti- age effect, thanks to vitamins C, E and collagen.
---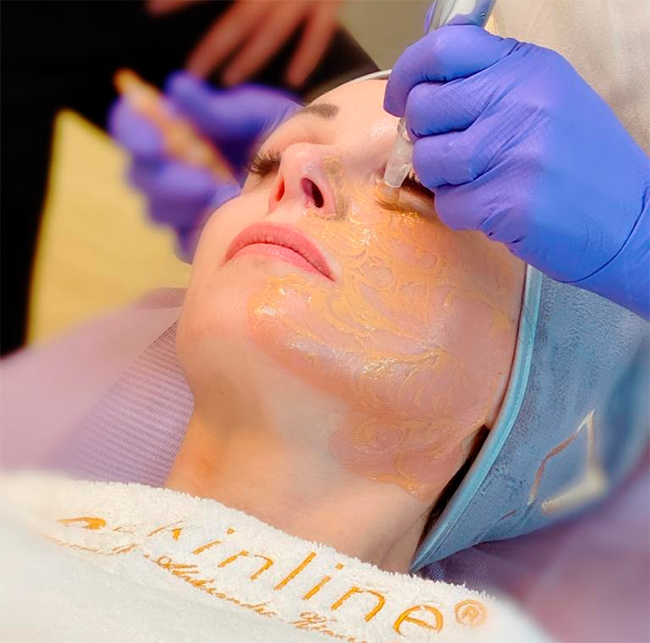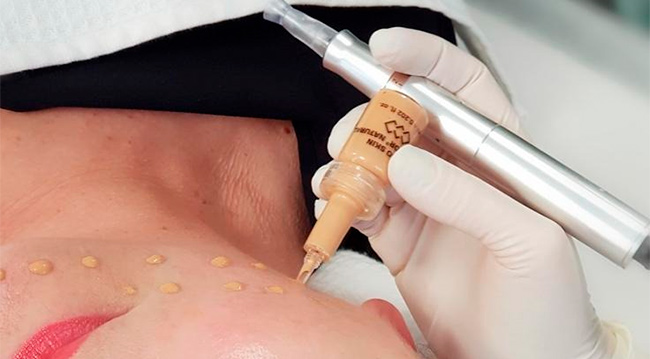 We use mesoskinline's equipment and products
Treatment with SKIN PERFECTOR is suitable for combating and camouflaging:
impure skin

discoloured skin

older skin (including ageing spots)

wrinkles

tired and dull complexion

visible pores

bags and dark circles under the eyes

scars, freckles and pigment spots.
The treatment also provides the following results:
Clear, glossy and uniform skin

Reduction of mimic lines

Supply of collagen and moisture

Reduces pores

Tightening lifting effect

Detox of the skin and neutralization of free radicals

BB cream effect immediately after treatment

Smooth effect on hyperpigmentation, post-acne PIH blemishes, freckles and melasma

Suitable for both light and ethnic skin tone

Increases collagen production

Hides dark edges under the eyes (both bluish and brownish)
The treatment produces long lasting results for up to one year following 4-5 treatments. The majority of clients choose at least 2-3 consecutive treatments, to maximise the impact.

You can see the result immediately and the serum continues to work for approx. two weeks after treatment. Also there is no pain or down time during or after the treatment.
The treatment is suitable for ALL skin types!
Equipment you must use on the course
The treatments on the courses can be carried out with the MESO POWER DEVICE MS-3 (which can be used both for permanent makeup and mesotherapy as well as microneedling and bb glow) or with mesoskinline's specially developed machine for non-invasive mesotherapy MESOpower Pen: these two machines are the most advanced on the market for non-invasive mesotherapy.
---
You will learn the following on the course

Inclusion of the known BB Glow products into the skin
Introduction to products: (pre and post treatment)

Basic hygiene requirements

Aseptic and antiseptic procedures

Work safety and sterilization

Anesthesia for the procedure

Customer Consultation

Meso-serums in the market

Aftercare instructions

MESO SKIN PERFECTOR cocktails are:
Tested for non-invasive mesotherapy

Dermatologically tested

Made in Europe

CPNP registered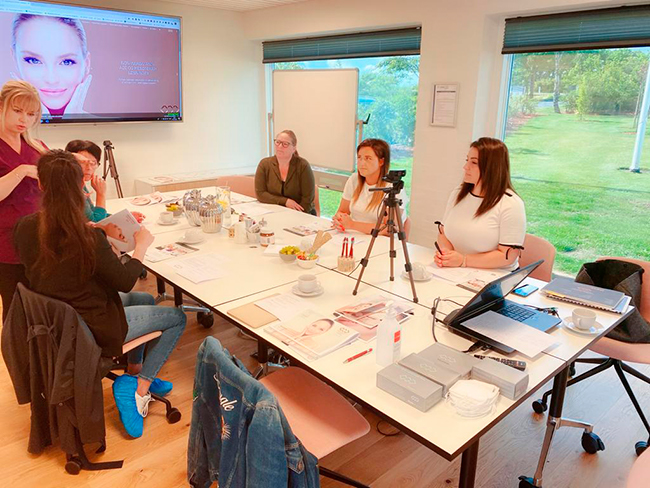 ---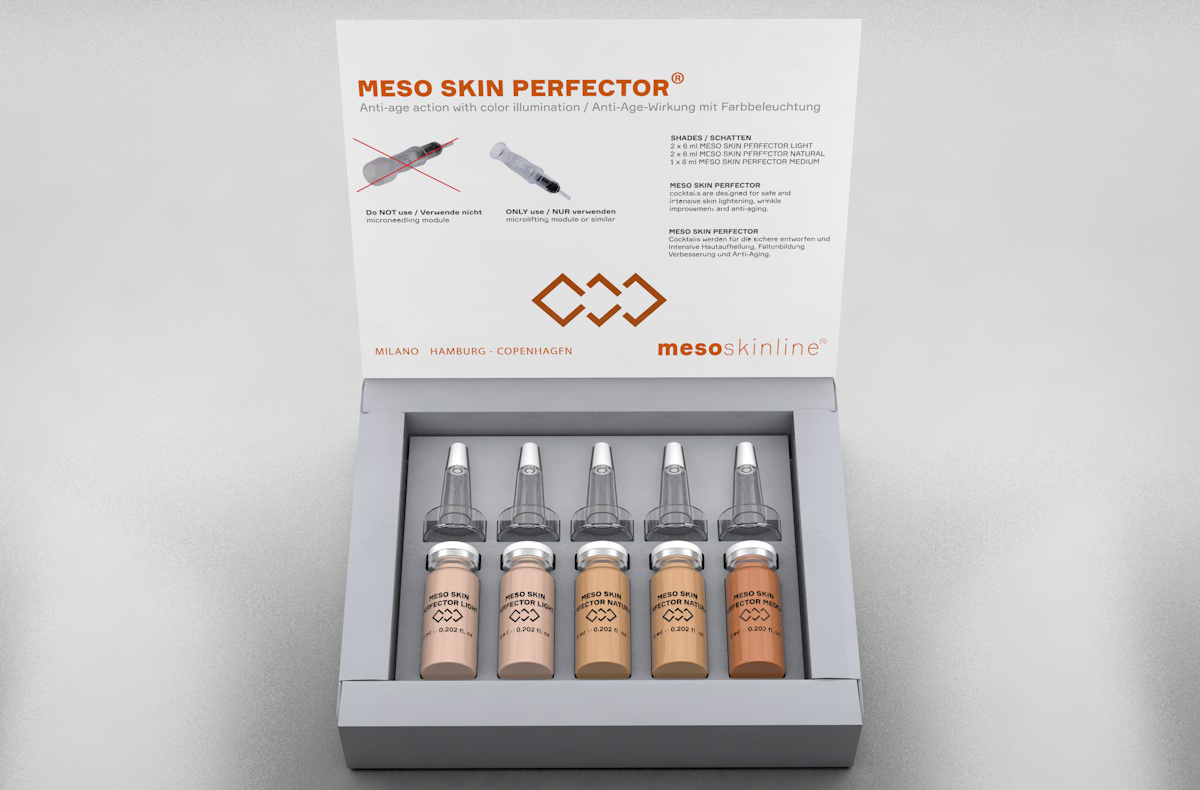 MESO SKIN PERFECTOR® are:
Thoroughly tested for use in non-invasive mesotherapy treatments

Dermatologically tested

EU-Certified

CPNP registered

Made in Europe
The products you learn to work with
MESO SKIN PERFECTOR not only provides a more uniform skin tone but also treats the skin from the inside - it is an effective anti-age and antioxidant mesotherapy cocktail for treating dehydrated skin with signs of ageing and lack of elasticity. The BB serum is free of parabens, scents, alcohol and allergens.
There three nuances of MESO SKIN PERFECTOR:
Light: for light skin tones

Natural: for rose skin tones

Medium: for darker skin tones

MESO SKIN PERFECTOR is a unique product based on a special formula of cosmetic pigments with an amount of CI 77891 within safe limits so there is no risk for overtreating the skin which often leads to permanent skin discolouration (white, grey, yellow blotches) that we see on the market today.
MESO SKIN PERFECTOR cocktails are an innovative complex of highly concentrated, biologically active ingredients developed in cooperation between mesoskinline and Mesotech which guarantees the highest quality and safe results.
---
What you will learn.
Treatments withMESO SKIN PERFECTOR® are suitable for combating and camouflaging:
Impure skin
Discolored skin
Older skin including age spots
Wrinkles
Tired and dull complexion
Visible pores
Bags and dark circles under the eyes
Scars, freckles and pigment spots.
The treatment provides many results and effects in one:
Clear, shiny and uniform skin
Reduction of facial lines
Supply of collagen and moisture
Reduces pores
Firming lifting effect
Detox of the skin and neutralization of free radicals
BB-cream effect immediately after treatment
Even lightening effect on hyperpigmentation, post-acne PIH spots, freckles and melasma
Suitable for both light and ethnic skin tones
Increases collagen production
Hides both bluish and brownish circles under the eyes
The treatment provides long-lasting results for up to a year with 4-5 treatments. The vast majority of clients opt for at least 2-3 treatments in a row to maximize the effect.
You can see the result immediately, and the serum continues to work for approx. two weeks after treatment.
There is even no pain or downtime with the BB Glow treatment. The treatment is suitable for ALL skin types!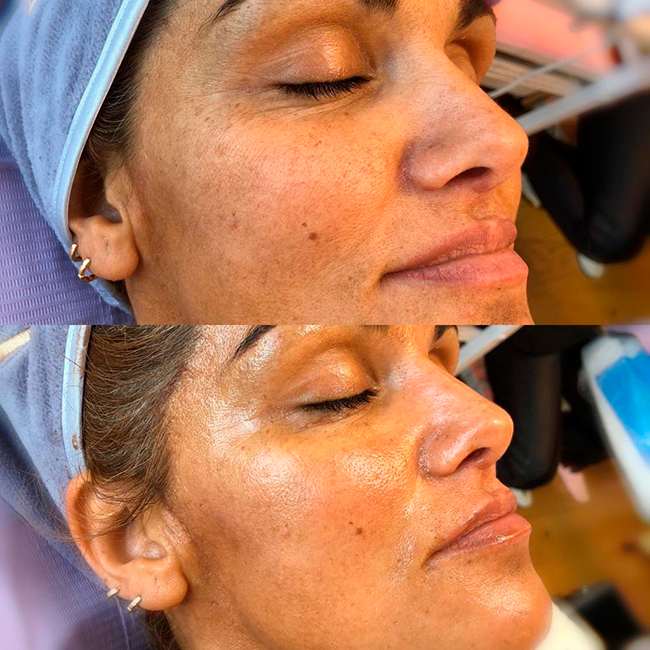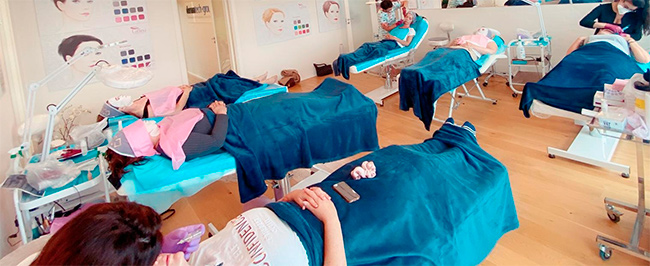 ​​​​​
---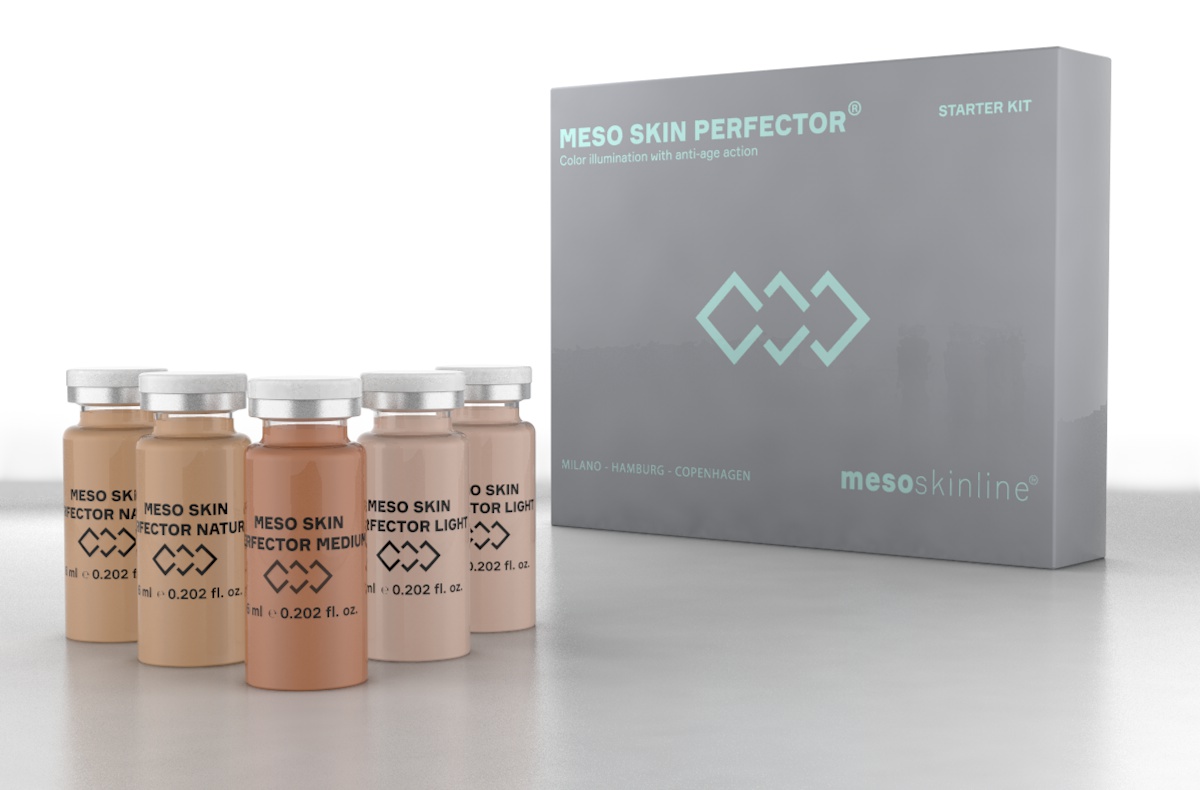 Main ingredients in the serum
Low molecular weight hyaluronic acid (5-10 kDA)
High in hydrophilic molecules that, thanks to its chemical structure, are able to bind numerous water molecules. Low molecular weight hyaluronic acid penetrates the deeper layers of the epidermis giving the skin greater tone, elasticity and intense hydration. It reduces the phenomena of superficial dryness and dehydration of the skin
Verbascum Thapsus extract
An innovative active vegetable ingredient with illuminating action; its action is based on bioluminescence: it is able to act on some potentially harmful UV radiations transforming them into a light source that radiates directly from the skin giving a brighter, younger, healthier and naturally radiant appearance.
Vitamins C - Vitamins E
Vitamins have antioxidants, anti-ageing and emollient properties, working in synergy with each other and improve their characteristics. They act to fight skin ageing by promoting cell renewal and fighting free radicals. In addition to anti-ageing, antioxidant and repairing functions, they have a lightening action, giving sun protection and nourishing and protecting the skin.
Download info
---
The difference between BB Glow and permanent makeup
BB Glow serum is correctly fed into the epidermis.
Unfortunately, we have already learned that there are courses and videos on the web that incorrectly show that BB Glow should be applied with a microneedle module and where the skin is penetrated too deep, which will eventually cause irreparable damage, since infusion into the dermis will produce lasting effects, including the effects of Titanium Dioxide, which has resulted in several unhappy clients with permanent makeup.

We therefore pride ourselfs in teaching you to carry out this treatment in a thoroughly correct way. The course is conducted by instructors who are certified mesoskinline BB Glow trainers, with many years of experience in both traditional microneedling and permanent makeup.
---
The structure of the course
Del 1: Teori online
The first part of the course takes place exclusively online and can be started and completed at your own pace

After registration, you will receive a unique login to your online study: extended theory material with video course in treatment techniques step-by-step

At the end of Part 1, you must pass an online theoretical exam (it requires 75% correct answers to pass)

Starter kit
Part 2: Practical teaching day with exercise

If you are resident outside Denmark, you must ONLY select Part 1 (Part 2 is not necessary)
Passing the online exam gives access to the 2nd part of the course, which is a practical teaching day at our course center in Vejle, or at one of our partners in Copenhagen or Ølstykke. If you live abroad, we can arrange online teaching.

You will attend and practice the BB Glow treatment yourself MESO SKIN PERFECTOR®

Sparring about your treatment (which is included in your final exam)

Summary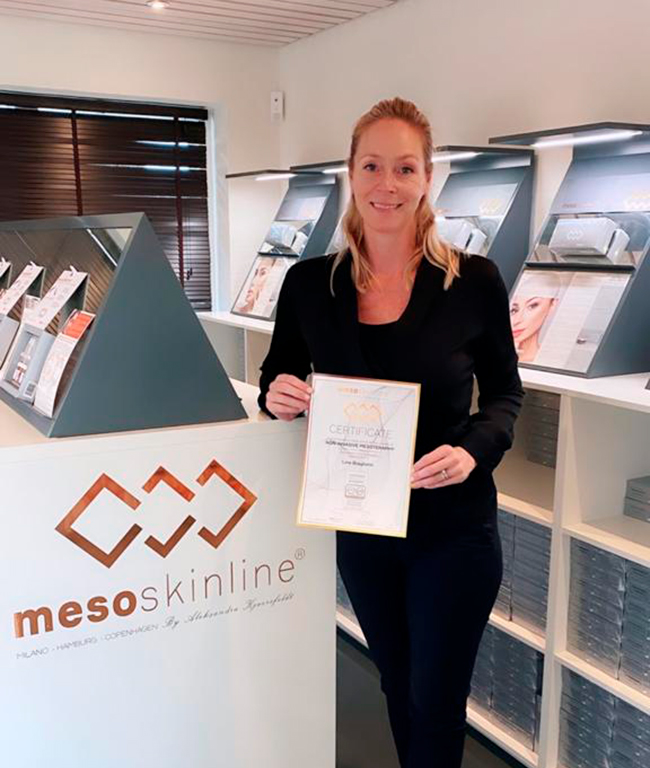 ---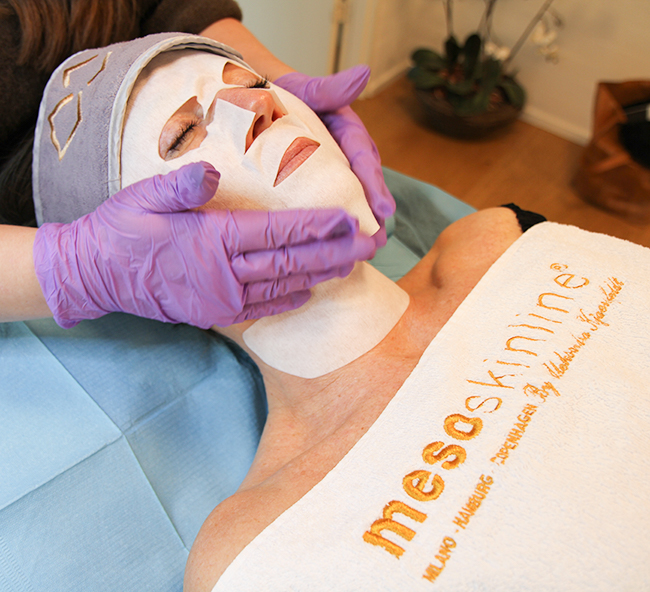 Exam on the BB Glow course
Theoretical exam - online

The theoretical exam takes place online at the end of part 1 and gives access to part 2.
Practical exam - at the course center and at home
Practical exam takes place as a combination of treatment on a model at the course center (or at one of our partners) in connection with the practical day, as well as subsequent 10 treatments on your own.
Already after the theoretical exam has been passed online, you are qualified to carry out model treatments on your own.
Therefore, you can already start practicing the techniques before the practical day - if you have the courage, of course.
In total, you must have completed at least 10 model treatments on your own (before and/or after the practical day), during which you must send before and after photos to your instructor, who will evaluate them with you and give you professional advice.
Once you have completed 10 model treatments on your own, you are eligible to receive the final course certificate and internationally accredited certificate of course completion. If you manage to carry out 10 treatments before the practical day, you will receive a certificate on the day.
---
What you get
A globally certified course and CPD Certificate (neccessary for insurance)

All necessary support, correspondence and guidance during and after the course

Starter Kit

Right to purchase mesoskinline products (Requires completion of mesoskinline or Mesotech course)

Access to mesoskinline webshop, images and logos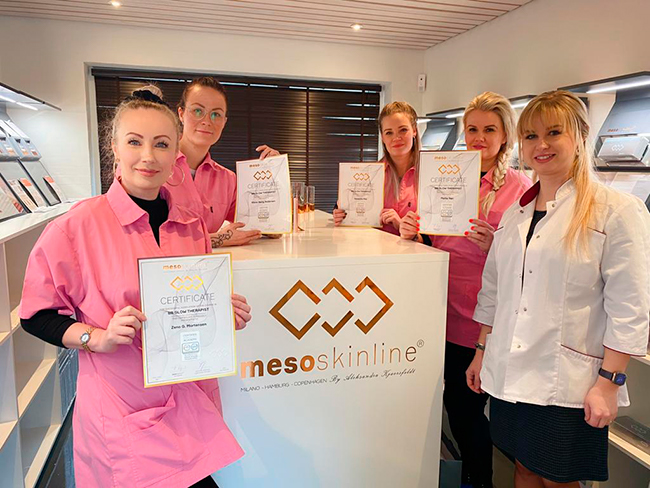 ---
Price for certified BB Glow course
€ 1.275,20 including books, starter kit and exam fee. (Part 1)
Starter kit included in the price
Included in the course price, you get a starter kit with the following contents:
---
Your teacher on the BB Glow course
Most of mesoskinline's and PMU-line's courses and educations are taught by Aleksandra Kjaersfeldt. A highly trained master trainer in permanent makeup with his own clinic, and many years of experience in the industry.
Aleksandra Kjaersfeldt is:
trained micropigmentist specializing in advanced permanent makeup and laser therapy
certified master trainer in cosmetic and medical micropigmentation
certified master trainer in Lash and Brow Keratin Lamination
certified master trainer in Eyelash Extensions
master trainer in dermatherapy/clinical wrinkle reduction
mesotherapist
antiaging therapist
There is no area of mesotherapy or permanent makeup that Aleksandra Kjaersfeldt has not worked with.
Despite that, Aleksandra is a humble person who always meets her students with great enthusiasm and openness. On the permanent makeup course, you will therefore have the opportunity to get answers to virtually all questions within permanent makeup and medical pigmentation.​​
Voted the Best in mesotherapy and Permanent Makeup 2020, 2021 and 2022
We are proud that our entire Dermatech-group training academy has won the Prestige Awards and the Scandinavia Business Award as the best in mesotherapy and permanent makeup 2020, 2021 and 2022. The award is given on the basis of the quality of the training, treatments and products, our ethical working methods and consistency in performance.
We are all colleagues
For Aleksandra, it is important to see other micropigmentists as colleagues rather than competitors – because, after all, it should always be the client's specific needs that are central.
Therefore, if you are dealing with a customer who has a special need, it is better to send the customer on to the right micropigmentist, than to end up with a final result that neither you nor the customer is satisfied with. Together we achieve the best results, so let's collaborate and help each other - and the customers.
More information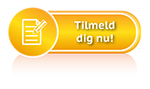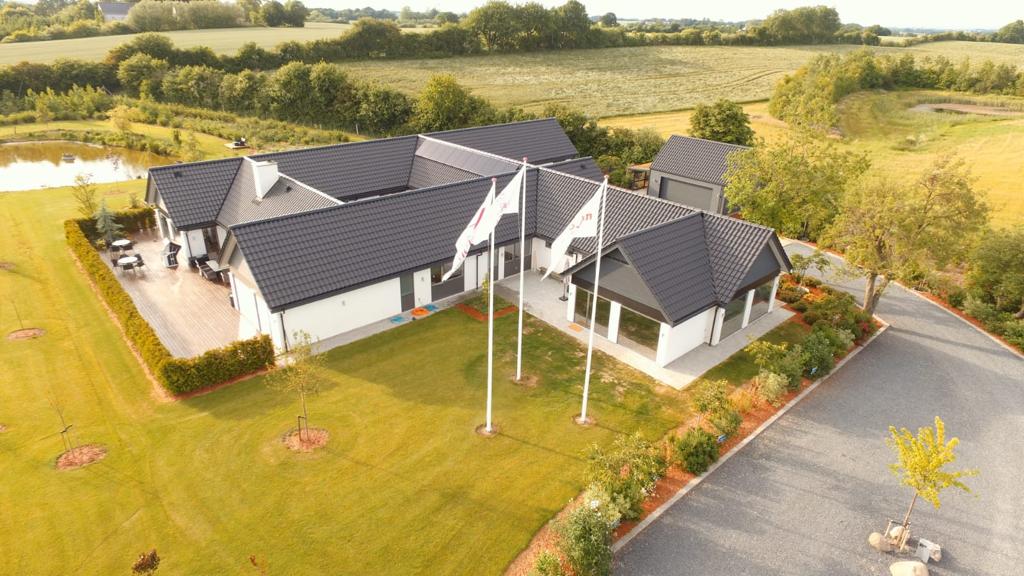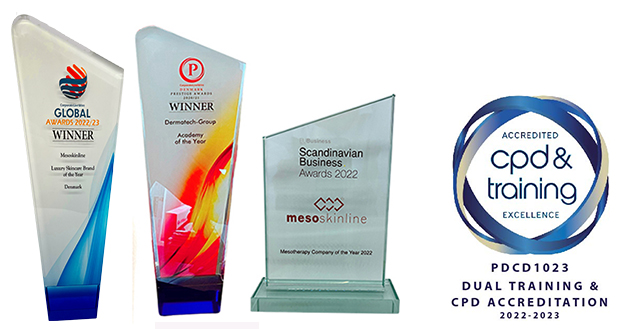 Customers who bought this product also bought