---
Become a certified mesoskinline mesotherapist
(incl. course in BB Glow and Clinical Peel)
3 courses in one (Mesotherapist, BB Glow and Clinical Peel course)

Do you want to offer more than a classic facial? Treatments where you can create clear and lasting anti-aging results, without surgery or laser? Then you need to train to be a mesotherapist. With mesoskinline you can ensure your customers the best and most effective skin rejuvenating treatments.
The non-invasive mesotherapy treatment is gradually becoming one of the most sought after treatments worldwide in the beauty industry.
Non-invasive mesotherapy takes place with special meso- and microneedling modules that add small doses of anti-aging mixtures in the skin areas where the client wants improvements in terms of skin color, elasticity, etc.
---
Description of the course in non-invasive mesotherapy
In the course, you will first and foremost be introduced to the theory of the form of treatment that underlies mesotherapy. Non-invasive mesotherapy is one of the most demanded anti-aging treatments worldwide.
You will learn how to perform the most effective anti-aging mesotherapeutic treatments without using injections. So you only learn treatments that are non-invasive.
It is a thorough, clinical treatment that can be performed on both body, neck, face and scalp.
Our experience ensures you a thorough course in non-invasive mesotherapy
We are proud to be among the European pioneers in non-Invasive mesotherapy treatments and courses. An optimal course takes a lot of time and with us there is professional supervision at all stages of the training process.
In short, you are never alone and you can ask all the questions you may have, no matter when they arise.
As experienced experts, we not only accompany our students all the way during the course, but also after completing the course.
You are taught exclusively by well-trained staff and we only use and sell equipment and accessories approved by the EU and the Danish Environmental Protection Agency - from mesoskinline.
We teach you to provide quality and professional service - and that is the way to your success as a mesotherapist.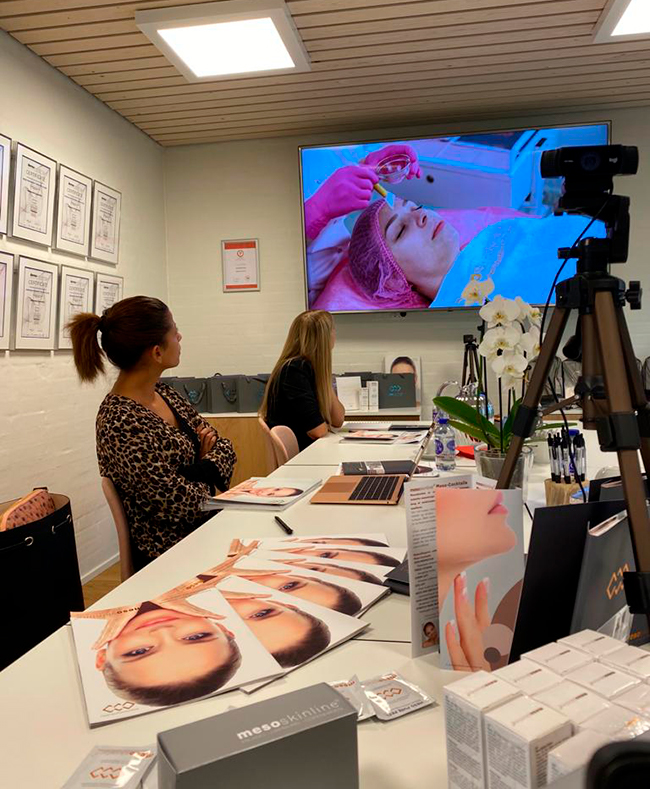 ---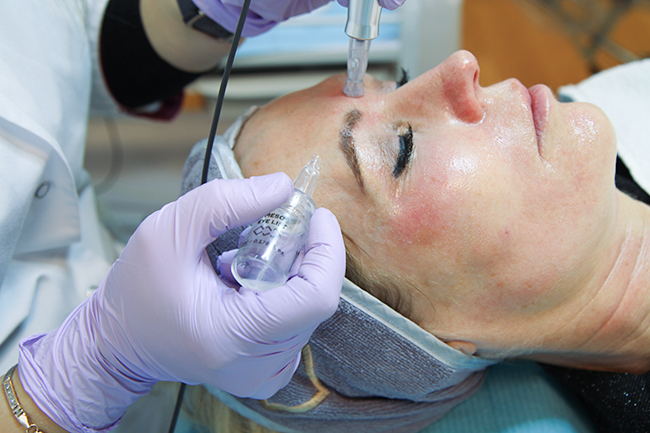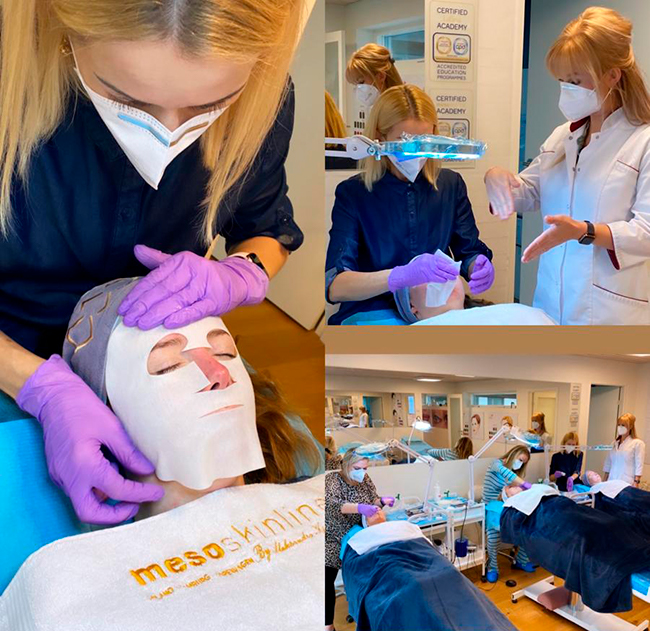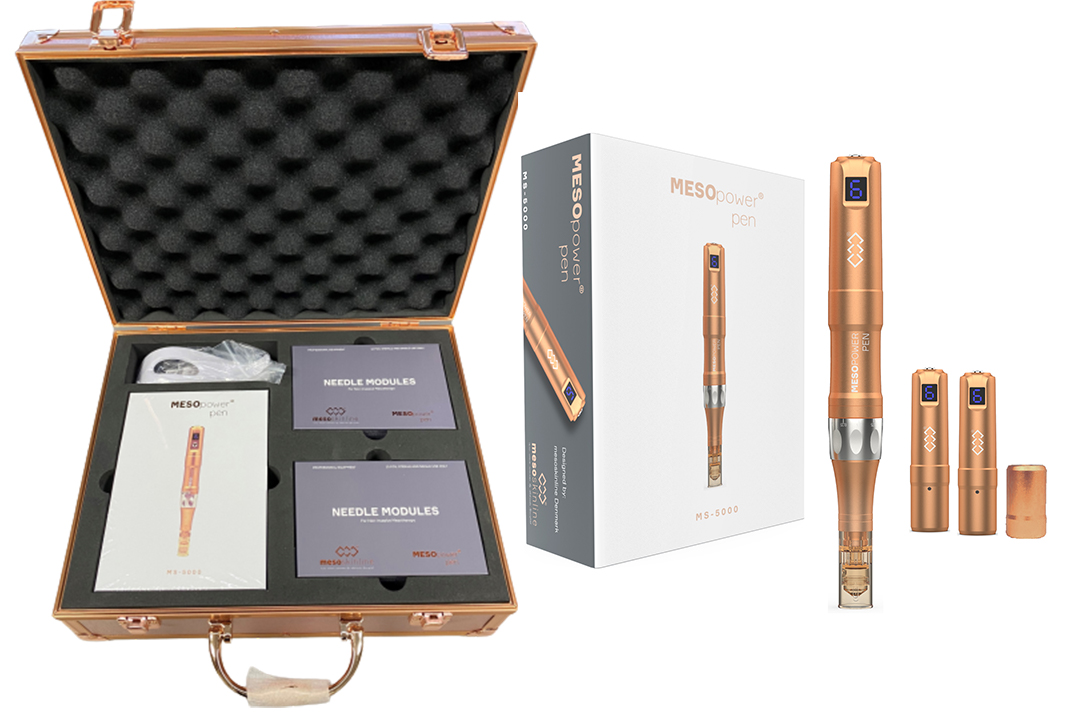 We use mesoskinline equipment and products
For all treatments in our clinic and for all courses in non-invasive mesotherapy, we use products from mesoskinline.
mesoskinline:
is a Danish-German-Italian specially designed concept within non-invasive mesotherapy, where consistency and dosage fit perfectly to the individual type of treatment

equipment and products are manufactured in the EU according to ISO9001 and ISO13485 - and then they are EU certified

offers dermatologically tested mesococktails for non-invasive treatments

products are categorized as non-medical.
mesoskinlines products can remedy
mesoskinline's products consist of targeted products for the treatment of a number of skin problems, for example:
superficial and deep lines

pigmentation

stretch marks

hair loss

loose skin

dehydrated skin
Among mesoskinline's equipment you will find e.g. mesomodules (0.5 mm), microneedling modules (0.7 mm) and microlifting module 24 x 0.5 mm, which allow you to treat all skin types and areas optimally and vary your treatment technique.
The equipment is specially developed for non-invasive mesotherapy and microneedling and can therefore withstand many treatments a day and constant vibrations.
Equipment you will need on the course
The treatments on the courses can be performed with MESO POWER DEVICE MS-3 (which can be used for both permanent makeup and mesotherapy as well as microneedling and bb glow) or with mesoskinline's specially developed machine for non-invasive mesotherapy MESOpower Pen: These two machines are the most advanced on the market for non-invasive mesotherapy.
Starter Kit (Included in Part 1)
1 x Set Mesopower pen kit (more)

10 x 5ml Meso Fresh Vitamin

24 x 3,5 ml Meso Pure Peel

10 x Meso Anti-Age mask

1 x Meso Lift and Protect

1 x Meso Peel Melanin Kit

25 x 6 ml Meso Skin Perfector
Normal price 1.354.- EURO
---
You will learn this in the course in non-invasive mesotherapy
What is traditional mesotherapy?

What is non-invasive mesotherapy?

Why non-invasive method?

What are the benefits of non-invasive mesotherapy?

The course of treatment

Theory and function of equipment and products for non-invasive mesotherapy, e.g .:

mesoskinline meso-cocktails

mesoskinline meso skin perfector

mesoskinline meso peel

The treatment methods

Step-by-step treatment to achieve maximum efficiency

BB Glow ("meso skin perfector") treatment

Clinical Peeling ("meso peel") treatment
Than you shall perform model treatments and send your before afterpictures to the academy for final certification.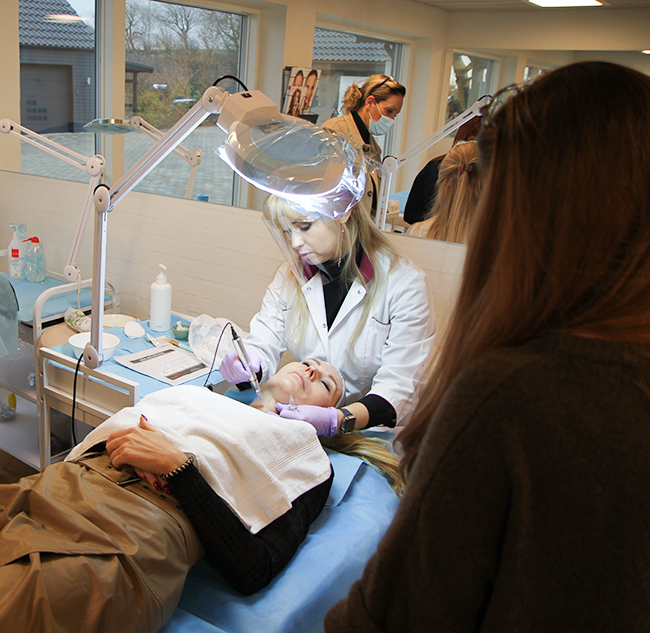 ---
Course content
In the course, you will learn to treat and camouflage the changes the skin undergoes as a result of photoaging, including changes in skin structure, loss of elasticity, lack of moisture, thickening of the skin and wrinkles that occur prematurely.
Treatments with mesoskinline meso-cocktails are aimed to reduce:
Natural signs of aging in the skin, e.g. lethargy, wrinkles, dull skin with enlarged pores, bags or dark circles under the eyes and loose skin on the hands

All types of pigment spots

Stretch marks

Hair loss

Acnescar

Uneven skin with large pores
Treatments with meso skin perfector, which is suitable for combating and camouflaging:
Impure skin

Discolored skin

Mature skin, including age spots

Wrinkles

Tired and dull complexion

Visible pores

Bags and dark circles under the eyes

Scars, freckles and pigment spots.
Treatments with meso peel
Independent clinical peel treatments

Inclusion of peels in other types of treatments, as well as combination treatments
---
Course structure for online study
Part 1: Online Theory
The first part of the course takes place exclusively online and can be started and completed at your own pace

After registration, you will receive a unique login for your online study: extended theory material with video course in treatment techniques step-by-step

As a conclusion to part 1, you must pass an online theoretical exam (it requires 75% correct answers to pass)

Start kit (Value over EUR 1.354.-)
You can perform afterwords treatments on models and send us the pictures as documentation for practical part of the course.
Therefore when you purchase the course, you shall order only Part 1.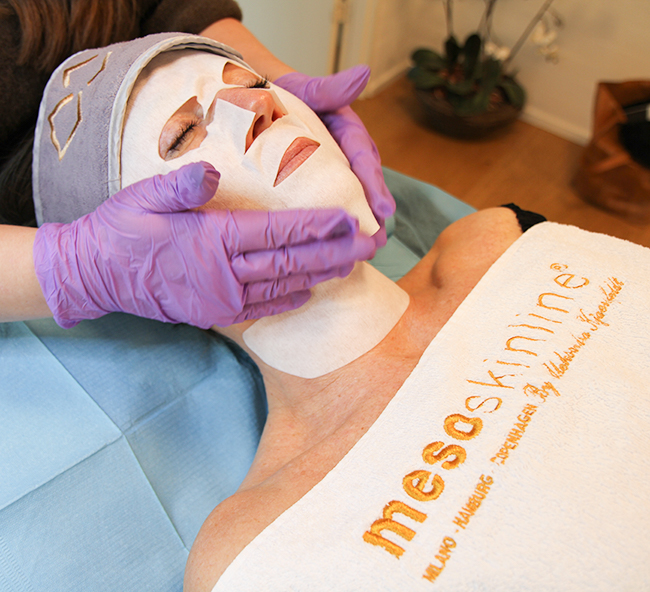 ---
What you get that on the course in non-invasive mesotherapyi
Certificate with global CPD certification when you have completed 10 treatments on your own

Starter kit (Value Euro 1.354.-)

All necessary support, correspondence and guidance during and after the course

Free support is subsequently provided if you have questions about the treatments or mesoskinline's equipment and products

Right to purchase mesoskinline products
Access to the mesoskinline webshop, as well as images and logos for marketing material
Marketing your clinic
An exclusive mesoskinline window logo
Non-invasive mesotherapy is an independent course which does not require a specific education to be admitted.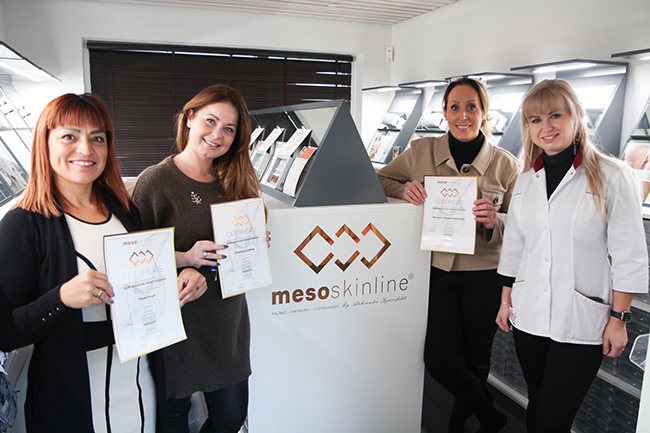 ---
Price for Certified Mesotherapy course

Including CPD Certification and start kit
If you are taking the course from abroad, you must ONLY choose Part 1
PART 1: Euro 1.543.- including books, starter kit and exam fee.
Your teacher on the course in non-invasive mesotherapy
Most of mesoskinlin's and PMU-line's courses and educations are taught by Aleksandra Kjaersfeldt. A highly trained master trainer in permanent makeup with his own clinic, and many years of experience in the industry.
trained micropigmentist specializing in advanced permanent makeup and laser therapy

certified master trainer in cosmetic and medical micropigmentation

certified master trainer in Lash and Brow Keratin Lamination

certified master trainer in Eyelash Extensions

master trainer in dermatherapy/clinical wrinkle reduction

mesotherapist

antiaging therapist
There is no area of mesotherapy and permanent makeup that Aleksandra Kjaersfeldt has not worked with.
Despite that, Aleksandra is a humble person who always meets her students with great enthusiasm and openness. On the permanent makeup course, you will therefore have the opportunity to get answers to virtually all questions within permanent makeup and medical pigmentation
---
Voted best academy in 2020, 2021 and 2022
We are proud that our entire Dermatech-group training academy has won the Prestige Awards as the best academy in 2020, 2021 and 2022. The awards are given on the basis of the quality of training, treatments and products, our ethical working methods and consistency in performance.
We are all colleagues
For Aleksandra, it is important to see other micropigmentists as colleagues rather than competitors – because, after all, it should always be the client's specific needs that are central.
Therefore, if you are dealing with a customer who has a special need, it is better to send the customer on to the right micropigmentist, than to end up with a final result that neither you nor the customer is satisfied with.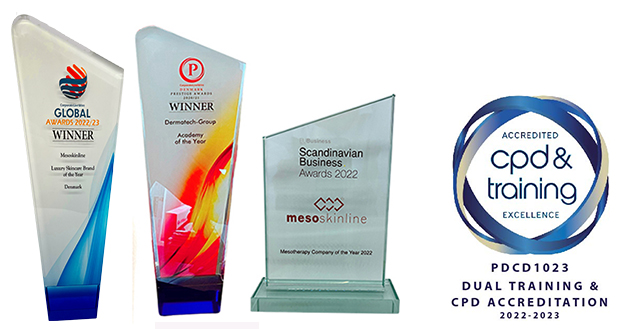 Customers who bought this product also bought