---
MESO 3D EYE CREAM
---
Intensive treatment for the eye contour
---
This cream benefits
The skin is moisturized and elastic

Helps to reduce expression lines in the eye area

Reduces bags and dark circles

Stimulates collagen synthesis

Gives instant smoothing action
Main ingredients
Escin

Albizia Julibrissin extract (silk tree)

Darutoside

Hyalurinic Acid
---
Intensive treatment for the eye contour
Meso 3D Eye Cream is an intensive treatment for the eye contour, recompacting and lifting the upper eyelid, smoothing and lightening the periocular area and restructuring and making the eye contour more toned and compact. Its specific formulation acts on the main causes of bags and dark circles and will stimulate the cutaneous microcirculation, promoting the elimination of blood-derived pigments and helping to prevent the signs of periocular ageing.

Meso 3D Eye Cream contains an active complex consisting of triterpene saponins (Escin) of Aesculus Hippocastanum and lecithin which is enriched with a plant complex based on silk tree extract which helps prevent eye-bags and dark circles around the eye area.
This complex activates the periocular microcirculation and assists the reabsorption of hemoderivative pigments responsible for dark circles around the eye area. Furthermore, this formulation is able to improve the roughness and peri-ocular skin tone, stimulating the regeneration of the structural components and thus restoring a renewed, luminous look.
---
MAIN INGREDIENTS
Escin:
Complex of triterpene saponins (escin) of Aesculus Hippocastanum and lecithin, with soothing, anti- eudermic and venotonic properties.
It helps venous blood circulation, improves capillary tone, reduces capillary permeability and, therefore, the fragility of the veins. It drains and deflates the action of the bags and stimulates the microcirculation to relieve the signs of dark circles.
Albizia Julibrissin extract (silk tree) and Darutoside:
Protects, strengthens and improves the properties of the dermis.
By consolidating the microvascular network and stimulating the detoxifying system, it reduces the permeability of the capillaries and the accumulation of glycotoxic pigments responsible for the heterogeneous colouring and the tired appearance, giving a lifting effect on the sagging of the upper eyelids
Hyaluronic Acid:
Thanks to its extraordinary ability to incorporate and retain large amounts of water in the intercellular spaces, it is essential for perfect hydration of skin tissues.
It is also precious because it acts both on the surface by lifting the epidermis and more deeply by stimulating the cellular metabolism of the skin tissues. In this way, it fights skin ageing and the formation of wrinkles, keeping the skin compact, elastic and smooth.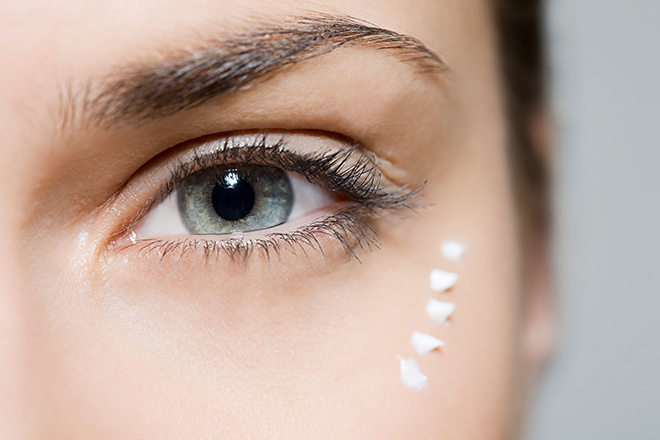 INGREDIENTS (INCI)
Aqua, Glycerin, Propylene Glycol, Lecithin, Sodium Polyacrylate, CI77891, Phenoxyethanol, Albizia Julibrissin Bark xtract, Centella Asiatica Extract, Aesculus Hippocastanum Seed Extract, Tocopheryl Acetate, Darutoside, Hyaluronic Acid, Diglycerin, Escin, Panthenol, Ethylhexylglycerin, Triethoxycaprylsilane, Pinus Pinaster Extract
Customers who bought this product also bought