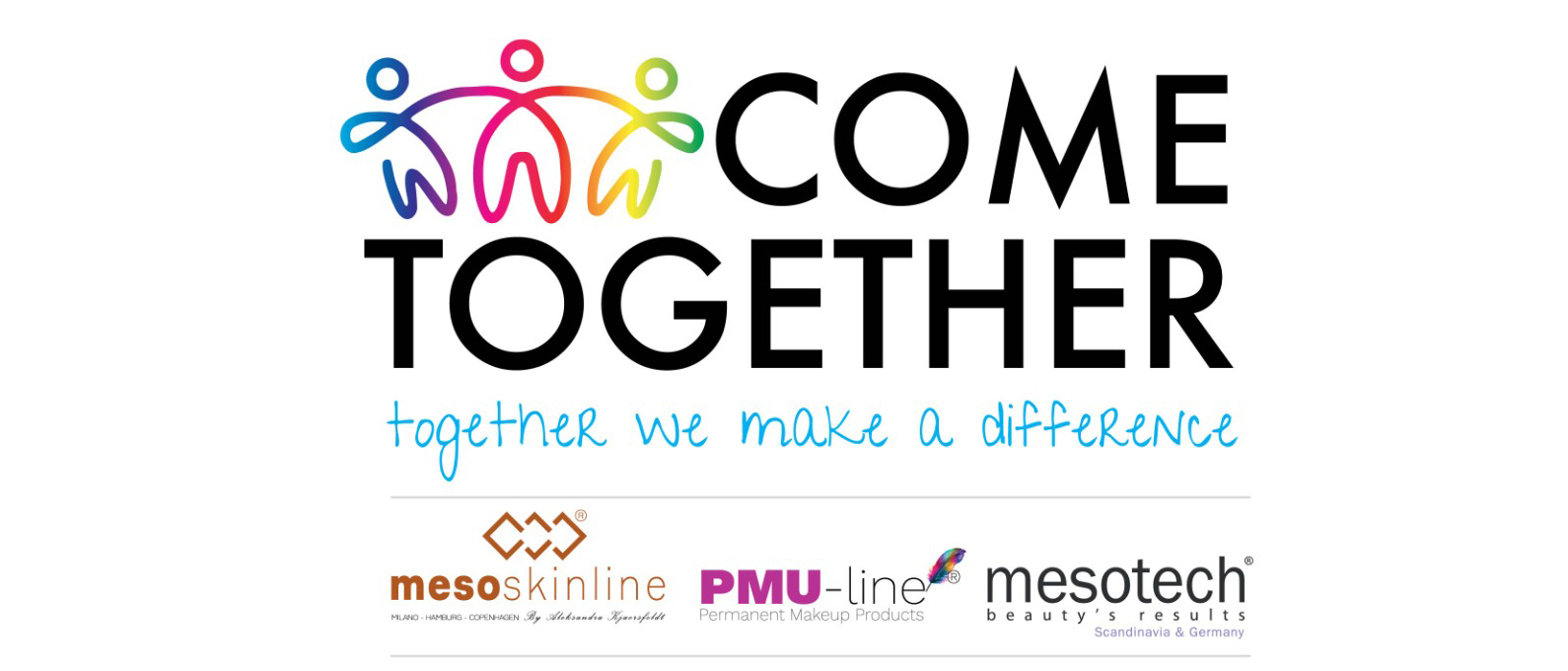 COME TOGETHER 2023
To be held: mesoskinline and PMU-line HQ. Juelsmindevej 57, 7120 Vejle, Denmark

Choose from the following days:
Friday 24 March
Friday 31 March

Choose from the following days:
Thursday 23 March
Thursday 30 March
Only a few available places on 24/3.




You can get on the waiting list for the other days if there are cancellations.
for clinic owners and distributors
(See, among other things, all the latest products and equipment for Permanent Makeup and Mesotherapy)
Our experts are ready to inform you about all products, their use and treatment methods.
---
MESO PROGRAMME Thursday 23rd March & Thursday 30th March
10.00 REGISTRATION
10.30 PRESENTATION OF NEW TREATMENT METHODS FOR CLASSIC SKIN PROBLEMS AND AGEING
• PUFFY FACE: RESTORE FACIAL CONTOUR
• THE EYES IN FOCUS: EYE BAGS, DARK CIRCLES, HEAVY EYELIDS AND WRINKLES
• IMBALANCES: PSORIASIS, ROSACEA, ACNE, ECZEMA: "WHAT TO DO?"
• MARKET TRENDS 2023 - THE CUSTOMER'S CHOICE
12.00 BREAK (COFFEE ETC.)
12.30 DEMO TREATMENT WITH NEW COMBINATION TECHNIQUE WITH MANUAL & NONINVASIVE METHOD: "NEXT LEVEL MESOTHERAPY"
14.00 SUMMARY AS WELL AS SPECIAL OFFER OF THE DAY & REGISTRATION FOR THE MASTERCLASS (WILL BE HELD APRIL 20)
---
NEW: MESO GUIDE
YOUR INTELLIGENT GUIDE TO
THE CORRECT MESOTHERAPY
TREATMENT WITH THE MOST SUITABLE PRODUCTS,
TREATMENT PROTOCOLS AND
TREATMENT METHODS.
IT IS FREE AND CONSIDERED TO BE "A MUST HAVE"
NEW: MASTERCLASS
"HANDS-ON" TRAINING IN THE
MARKET'S MOST COMPLETE
AND EXPERIENCE-BASED
MESOTHERAPY WITH ELEMENTS
OF CHEMICAL PEEL, MESO-LIFTING, MICRONEEDLING, ACUPRESSURE AND CUPPING.
1 DAY OF THEORY AND PRACTICE
1 DAY OF THEORY AND PRACTICE
Price € 268.50